CANCELLED - Scouting for Food 2020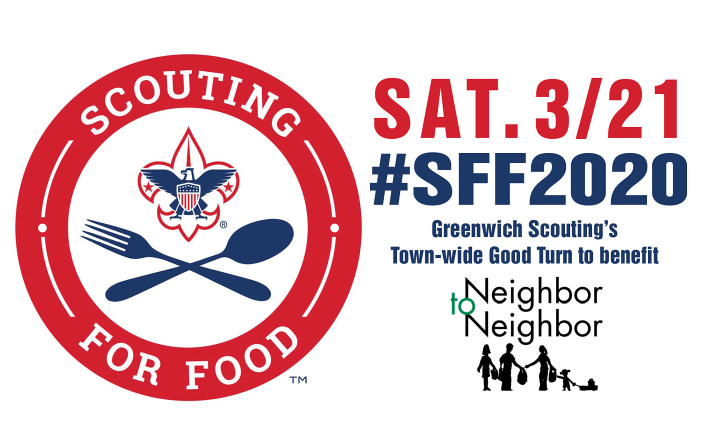 Date:
Mar 21, 2020
Location:
Neighbor to Neighbor
248 East Putnam Avenue
Greenwich, CT 06830

UPDATE: All Scouting for Food activities have been cancelled. We would like to support Neighbor to Neighbor during this difficult time by focusing on online donations. Thank you for your support!

2020 Honorary Chair - Fred Camillo, First Selectman, Town of Greenwich
Scouting For Food Each year the Greenwich Council, Boy Scouts of America, lends a hand to those in need as part of the Scouting for Food Drive. In partnership with Neighbor to Neighbor, Cub Scouts, Scouts, Explorers and Venturers collect food items from their neighbors.
Base of Operations:
10AM to 1PM at Christ Church in the Parish House (vestry) at 254 East Putnam Ave.
Drop Off Locations:
9AM-11:30AM at Old Greenwich Firehouse, Cos Cob Firehouse, Glenville Firehouse & Christ Church
Ways to Help:
• Distribute and collect bags in neighborhoods
• Staff drop off locations
• Man a grocery store and collect food or monetary donations that can be used to buy
additional items
• Create a drop off bin at your school or charter organization
• Promote the online food drive through email and social media
Event Chair: Anyone else interested in helping out and joining First Selectman Fred Camillo?
Help is still needed running the event and on the day of the event.