Scout Shop
Scout Shop will be offering Porch Side Pick-up!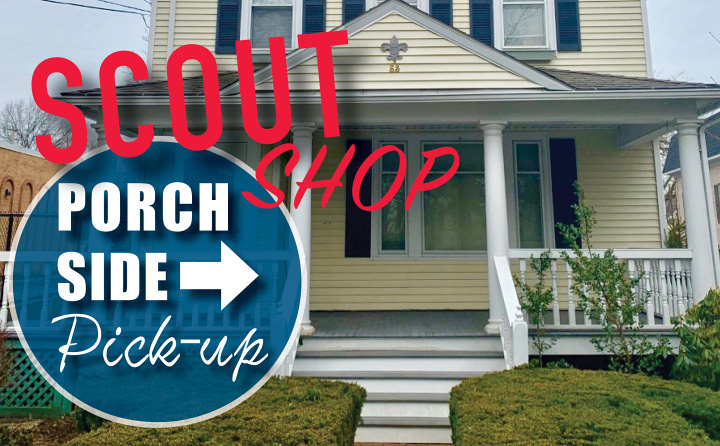 Dear Greenwich Council Scouting Family,
We hope that you and your family are safe and well.
We are happy to report that during Phase 1 we will be offering "Porch side" pick up for your scouting merchandise as the Scout Service Center will not be open to the public. Please follow the instructions below.
1. Assemble your list of items which will include:
· Description (item number if available)
· Quantity

2. Email list to Tom.pankosky@scouting.org
3. Tom will email you back with available merchandise and total cost
4. Confirm your order along with payment. Note: Credit Card Sales only
5. Once payment is processed you will receive a confirmation date/time for "Porch side" Pick Up
6. Your bag will include receipt and merchandise labeled with name and located at the front porch
Please note: Returns or Exchanges only for transactions from the Greenwich Council Scout
Shop with original receipt will be accepted.
Thank you for your continued support of the Scouting Program here in Greenwich.
Hours: Monday - Friday 10AM - 5PM
Location: 63 Mason Street, Greenwich, CT
Full uniforms, merit badge books, pinewood derby cars, leader guides and more. We have a Scout Shop that provides most of what you'll need for Scouting!

Please note: The Scout Shop typically follows Greenwich Public Schools closings in the event of inclement weather. For your convenience, please call ahead. (203) 869-8424 x.102
2019 - 2020 Closings
Sept. 2 - Labor Day
Oct. 13 - Columbus Day
Nov. 29-29 - Thanksgiving
Dec. 18-20 - Inventory
Dec. 23 -Jan. 1 Holiday
Jan. 20 - MLK, Jr. Day
Feb. 17 - President's Day
April 10 - Good Friday
May 25 - Memorial Day
July 4 - Independence Day
All BSA gear and items are available online by going to ScoutStuff.org.