Flag Placement on Veterans' Graves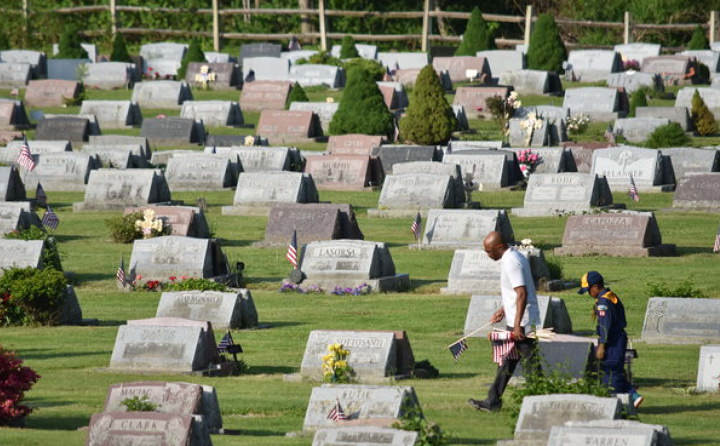 Date/Time:
May 20, 2020 5:00 pm to 6:30 pm
Location:
Putnam Cemetery
35 Parsonage Road
Greenwich , CT 06831

See below for the updated information!
To All Cub Scout and Scouts BSA Leaders
The Greenwich Council, BSA will again assist the American Legion Post 29 with the placement of American Flags on the graves of deceased Veterans. We meet at the Cross in the center of St. Mary Cemetery (399 North Street). The American Legion will be ready to issue flags at 4:00 PM but please come when you can. All Scouts should be in uniform and parents are invited to assist.
When: Wednesday, May 20th 3:30-5:00 pm and 5:00-6:00PM
Thursday, May 21st 3:30-5:00PM and 5:00-6PM (rain date if it rains on May 20th)
Where: St. Mary and Putnam Cemeteries
Updated Additional information:
Class A Uniform requested. Usually we meet at the flag pole but due to COVID-19 restrictions, we are asking that families sign up to be assigned a section of the cemetery in advance, and maintain social distancing. All Scouts and each member of the Scouts' family need to have a mask with them and maintain social distancing requirements.
Families will be assigned an area of the cemetary in advance. The flags will be placed in a box at your respective section. You will be contacted after signing up to receive the information as to what section you will be assigned to. After placing the flags, please leave the extra flags and any ones that need to be retired back at the box where you picked them up. They will be picked up after your depature. This is going to be done over a two day period the 20th and 21st. You can pick the one that is convienant for you when you register.
More information to follow.
When: Wednesday, May 20th and May 21st 5:00 pm
Where: St Mary and Putnam Cemeteries
Add'l Info: Class A Uniform requested. Tentative plan is that Scouts BSA and Cub Scouts can meet around 5:00 PM, the project is usually completed by 6:30-7PM.
Contact: Jim Heavey for further information on this event